Risk Management Policy
The D'Ornellas Cycling Club ("DCC") is a non-commercial, not-for-profit cycling club. DCC rides in groups on city streets and rural side roads, and promotes safe and courteous cycling. DCC recognizes that cycling has an element of risk of personal injury. DCC strongly takes the philosophical position that all members must embrace and act in accordance with a belief in personal responsibility for their own actions and their consequences. To reinforce this belief, the following reminder is posted on our web site and at the start of all rides:
DCC activities, including group bicycling rides, have an element of risk, including risk of serious personal injury and property damage which can result from on-road incidents or accidents. You are ultimately responsible for your own safety and well-being when participating in DCC events.
It is DCC's concept to cycle in groups. It is your responsibility to ride within your own level of ability and with the appropriate group based upon your ability, and to make inquiries of the group leader or a member of DCC Executive where you have any questions or require information to ensure that the group you ride with matches your particular physical ability and riding experience.
It is very important that each rider remain alert and in control when riding in a group in order to be aware of and safely react to changing situations within the group, other vehicles on the road, road and traffic conditions.
It is each member's responsibility, when participating in a DCC activity to ride safely, within their own level of ability, operate a properly maintained bicycle, bring sufficient water and food, and the tools and materials required to make minor roadside repairs such as changing a flat tire. There is no support on our rides and each member is required to have the skills necessary to change a flat and to use a route map to find their way home if they get dropped.
DCC rides have scheduled departure locations, times and routes. Announcements pertaining to designated rest or re-grouping locations are usually made before the ride, but this information is also available from the volunteer group leader during the ride. Route maps are provided either prior to ride start or posted on DCC's web page.
Rides will have volunteer group leaders, pre-arranged to lead the group on the scheduled route.
All riders MUST heed the advice and instructions of the group leaders. If you have any questions before or during the ride, please speak with the group leader.
All participants must be club members. DCC will hold periodic Try Out Rides for non-members. Dates for these rides will be posted on our calendar.
On weekend rides there are usually several different kinds of rides (varying distances, routes, and average speeds), all of which could provide challenge to any rider. It is each member's responsibility to ride with the appropriate group, based on their physical ability and experience. If riders are unsure of the suitability of a group, it is the responsibility of each rider to obtain sufficient information from the group leader to determine if they can safely ride with that group. Riders should stay with the group they are in, as we do not encourage people riding alone.
All participating riders must accept the fact that from time to time riders get 'dropped' from the group they are in. Getting dropped is a normal part of cycling. Dropped riders are encouraged to 'slide' back to the group coming up behind them. Riders are also encouraged to have a 'buddy' for safety and to prevent isolation should they be dropped by the group.
It is mandatory that all riders must wear a CSA, ANSI, or CPSC approved helmet.
The rules and guidelines of D'Ornellas Cycling Club are for the safety of all members. Riders who cannot or will not comply with the rules and guidelines will be asked to stop riding with DCC.
Revised: January 3, 2017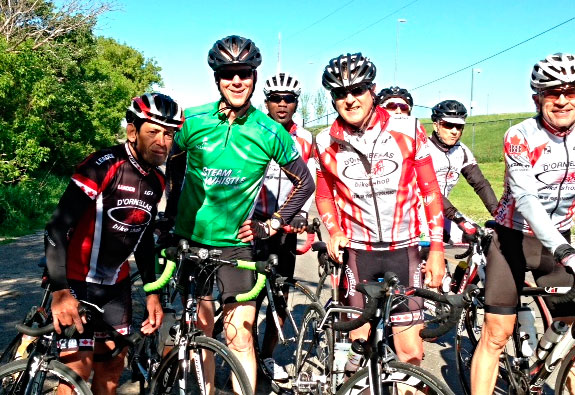 ONLY CLUB MEMBERS CAN JOIN OUR RIDES
All Saturday group rides start from D'Ornellas Bike Shop at Lawrence and Pharmacy.
You must be a registered club member before you can join any D'Ornellas Cycling Club group rides.
So, if you haven't joined or renewed, now is the time to do so!
---