Our policy is to provide safe and fun rides as well as keeping people in groups (we don't like members riding alone for safety reasons) but we expect people to choose the right ride. Average speeds and difficulty of routes will change as the cycling season progresses and riders endurance and strength improves.
All rides are to be done on a safety checked road bike. Riding with Aero Bars is not permitted in a group, although when at the back of the group you can. Some of our morning midweek rides tend to be more training specific rides.
Our club mandate is to ensure our rides are safe, that our riders become skilled riders and progress in fitness to a level that meets each individual riders goals.
Each week the ride leader will indicate which ride they are doing. Depending on the distance there may be a water stop. Each ride leader has a different style, speed and flow, so please choose the right ride for you. If you are not sure what is the right ride, please ask. Our goal is to ensure we meet your objectives with safety being our first priority.
We have four broad ride categories: A, B, C and Skills. Please see our catchy group names and descriptions below:
GROUP "A-ESPRESSO" For seasoned riders who are able to ride an average 30+ km/hr for a distance of over 100km. The A group is perfect for those who have ridden with Espresso and are now ready to take it up just a notch. The focus is on team work – steady pace, everyone working, always safe and always in control. It is a double line ride with some zip! Riders may be dropped on these rides, but you come back stronger. Riders echelon and pull right through.
GROUP "B" For Intermediate to advanced riders who are able to ride an average 27 – 30 km/hr for a distance of between 80 – 90km. As this is our largest group, we have further sub-divided Group "B" as follows:
B-Progresso: This is an organized double pace line ride with those participating having advanced riding skills and a high level of fitness. Be prepared to be challenged. Riders in this group have experience riding with our club and have participated in the B-Relaxo group. Riders work as a team out front supporting the B-Relaxo group at the back. When instructed by the ride leader, riders will move through the pace line in a controlled and safe manner. Your skills and fitness level should be at a level whereby you should not be dropped.
B-Relaxo: You have a good fitness level and moderate to good riding skills. You have a desire to improve and learn. You are looking to improve both your skills and your fitness level. You are not ready to ride the full ride in the B-Progresso group but are willing to take some turns at the front when the time is right. (as indicated by the ride leader). This group sits on the back of the B-Progresso Group. Your fitness level should be at a level where if you really feel challenged you can sit in at the back.
GROUP "C-CAPPUCCINO" For Novice to Intermediate riders who are able to ride an average of 24 – 26 km/hr for a distance of between 60 – 80km. A good group to improve on fitness and skills. Double line with rider changes happening on one side only with a single rotation. The ride leader will introduce echelon riding when deemed appropriate. Skills riders progress to this group when their ride leaders feel they are ready to enjoy the C-Cappuccino ride. This is a no drop group, so the group will always ride to keep everyone together.
SKILLS GROUP: This is offered early in the season (April to the end of June) for those with road bikes who may be new to group riding. Average distance is 50 – 70 km, with more emphasis on safety than speed. You are looking to improve fitness and bike handling skills, such as gearing, climbing a hill, riding close to other riders, cornering – and all round safe group riding. In order to be fair to other participants we require that you have the basic cycling skills required to be comfortable riding on roads with some traffic and clipping in and out of your pedals safely.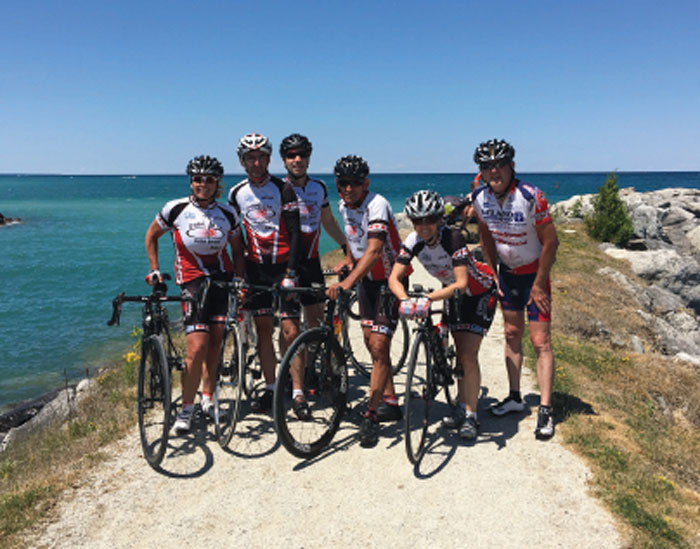 ON ALL RIDES, RIDER RESPONSIBILITY IS:
double line riding with single rotations

no half wheeling

no sudden movement

ride shoulder to shoulder

minimal conversation

focus on nutrition and hydration

no overlapping of wheels

no more than 20 riders in a group

every rider will respect their ride leader

riders will arrive early and ensure their equipment is in good working order
ONLY CLUB MEMBERS CAN JOIN OUR RIDES
All Saturday group rides start from D'Ornellas Bike Shop at Lawrence and Pharmacy.
You must be a registered club member before you can join any D'Ornellas Cycling Club group rides.
So, if you haven't joined or renewed, now is the time to do so!
---