Become a member

/ renew your membership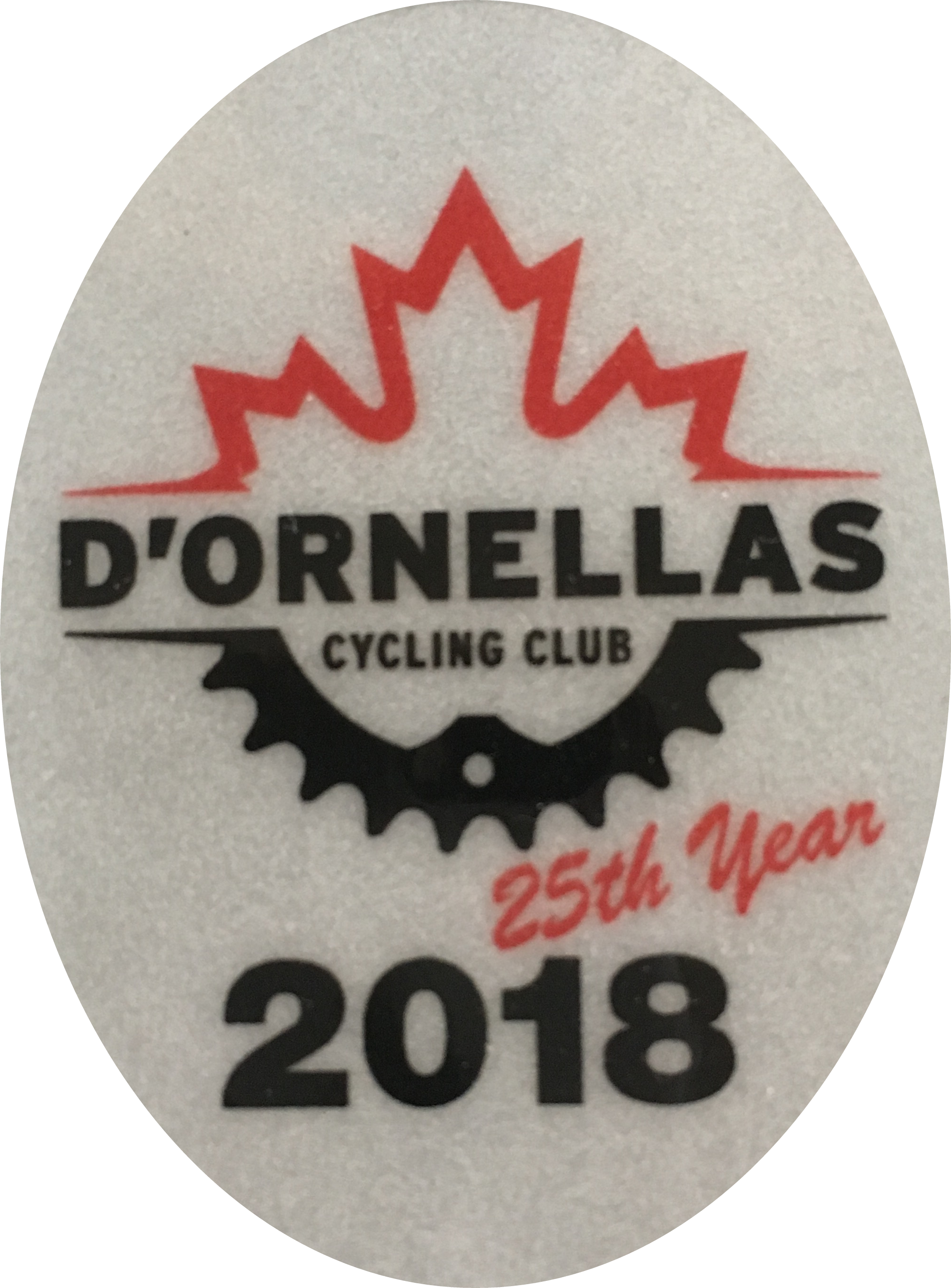 D'Ornellas Cycling Club is a Toronto road bike club composed of men and women who share a love of road cycling. If you are new to the road bike sport, we offer a skills ride. If you are an advanced cyclist but are looking for more distance, we have a ride for you. If you are looking for distance, speed with some competitive spirit thrown in, we have a ride for you too. Each ride has a ride leader who controls the group and ensures that each rider is looked after and at a minimum, knows the way home.
Our bicycling club's most popular days are Saturday and Sunday mornings, but it is common to have rides most days of the week. Rides start in Toronto at Lawrence & Victoria Park with a pick up point in Markham at 14th Avenue & Birchmount. Some of our rides start in Richmond Hill near Elgin Mills and the 404 highway. Many of our members live in Toronto, Scarborough, Markham, Stouffville, Richmond Hill, Thornhill, Woodbridge, Concord and Vaughan. You can find complete Ride details under the Ride tab.
For most D'Ornellas members or prospective members who do not belong to another cycling club
1. Pay your D'Ornellas Cycling club membership annual fee ($48 or $20 for under 18 years of age)
2. Pay your Ontario Cycling Association annual insurance of $44; which goes to the Ontario Cycling Association.
If you belong to another cycling club
1. Pay your D'Ornellas Cycling club membership annual fee ($48 or $20 for under 18 years of age).
2. If your other cycling club membership includes OCA insurance, you do not have to pay again. Opt out of paying OCA insurance and enter the name of your other cycling club; please be prepared to show your membership card from the other club at one of your initial rides with D'Ornellas Cycling Club.
Other Scenarios
If you obtain your own OCA license, either a Citizen Permit or full UCI license, both of these license fees include the OCA insurance, so indicate your license state on our online application and pay only your D'Ornellas Cycling membership fee.
If you hold a full OCA/UCI license AND race for another Bike Shop in the GTA, our Sponsorship Agreement with D'Ornellas Bike Shop doesn't allow us to accept your membership.
Sorry, TBN, OMCA, OMBA, OAT or other cycling or triathlon memberships don't include the OCA insurance fee and you must pay through an OCA-affiliated club membership or an OCA license.
Club members are to wear a D'Ornellas Cycling Club jersey on our Saturday rides. Please do not wear a cycling jersey from another cycling club or bike shop. Check out our Club gear at D'Ornellas Bike Shop at 1894 Lawrence Avenue East during regular retail store hours. They carry D'Ornellas Cycling jerseys, as well as club cycling shorts, gloves, socks, vests and jackets. All items are high quality products sold to club members at a greatly discounted price. These items are not included in your club membership fee.
Join our club or renew your membership
D'Ornellas Cycling Club uses Cycle Component Network Inc., (CCN) which provides an online membership renewal and event registration system. CCN was recommended by the Ontario Cycling Association.
Once you click REGISTER ONLINE below, you will be taken to CCN's website. You will create your own user profile and then register and pay your fees.
In order to receive club email about upcoming rides, you must join our Google Group. Don't forget to do this or you won't receive any email about club rides.

If you run into trouble on the CCN website or if you simply prefer to register over the telephone and provide your credit card
information, call CCN at 416-907-0649.
ONLY CLUB MEMBERS CAN JOIN OUR RIDES
All Saturday group rides start from D'Ornellas Bike Shop at Lawrence and Pharmacy.
You must be a registered club member before you can join any D'Ornellas Cycling Club group rides.
So, if you haven't joined or renewed, now is the time to do so!
---